Description
THE STRIKER XT MATERIALS MIX.
We get it, your uniform has to perform during a wide range of different activities. From kick-ass jumps out of the aeroplane to uncomfortable sleeping in the bush.
That's why we constructed combat pants that not only offers you all the necessary tactical elements, like reliable knee protection and a functional pocket configuration, but most importantly allows you unhindered movement and is extremely comfortable to wear, even after an extended period of time.
To achieve this, we combined the Schoeller®-dynamic stretch material, the CORDURA® abrasion resistant material and Poly/Cotton (or NyCo for the camouflage versions) ripstop material into specific body parts for the very best overall performance.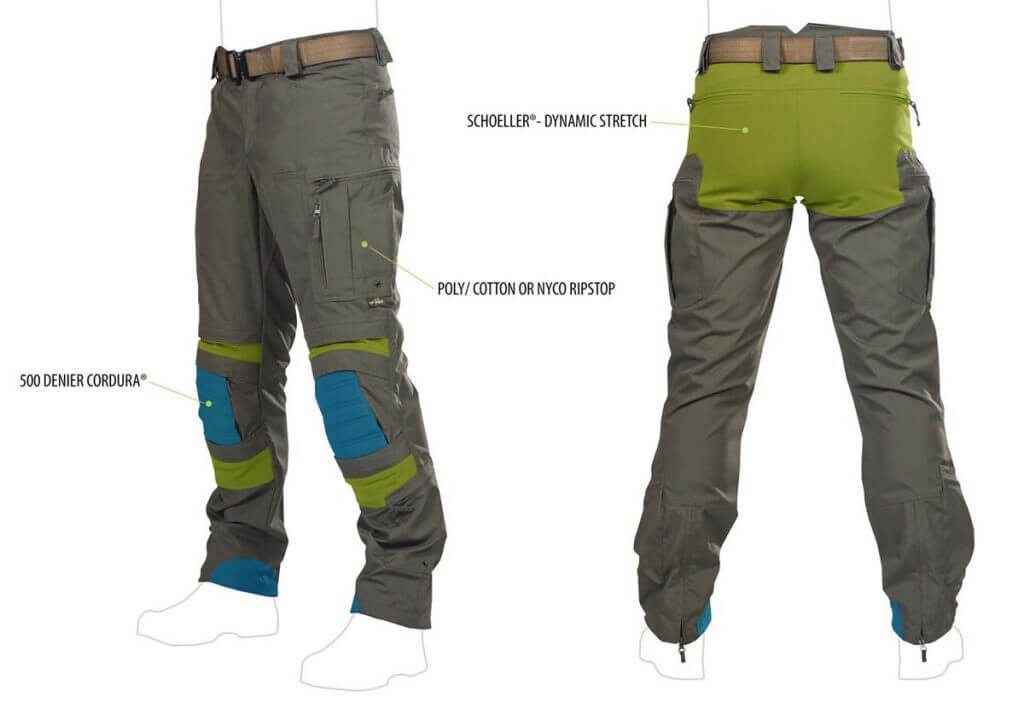 "FIRE AND FORGET" KNEE PROTECTION.
The Striker XT combat pants knee pads protection system* offers you reliable protection against impacts or sharp objects and most importantly, it's extremely comfortable to wear.
Due to the anatomic cut, you don't need to strap anything around your knee to fix them into the right position. Simply insert the pads into the knee pockets and you are good to go.
The combat pants knee pads have a flexible structure and thus ergonomically form to the shape of your knee.
So after a while, you'll forget you are even wearing them – the only time you'll notice them is when you actually need them.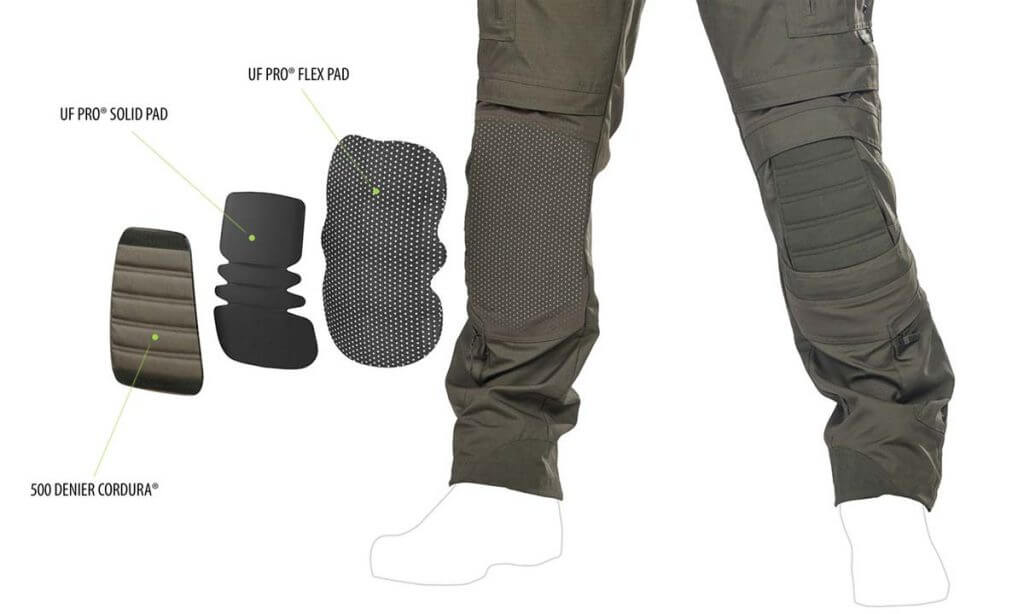 You can upgrade the army combat pants knee pads with three different types, which can be worn together or separately. The Flex SAS-TEC Pads protect you against impacts. The Flex-Soft Knee Pads offer you additional cushioning when kneeling down multiple times especially with heavy tactical gear. If you need additional protection against penetration of sharp objects, the UF PRO® Solid Pads will do just that.
*The knee pads have to be purchased separately, the Flex SAS-TEC and Flex-Soft Knee Pads are not meant to be worn together.
FUNCTIONAL POCKET CONFIGURATION.
The Striker XT Combat Pants with knee pads built in offer in total 13 pockets (not counting the inner compartments), so you might need a while at the beginning to remember in which pocket you placed your car key.
But don't worry, when you get used to the pocket configuration, it will give you sufficient storage for all your essential gear and allow you to access it at all times.
Because of the anatomic fit of the pants, whatever you store into the pockets, they won't dangle around while moving and stay right in the position where you need them.
CONNECTING WITH YOUR OTHER GEAR.
The Striker XT combat pants with knee pads are designed to be a team player when it comes to your other gear. You can connect your belt (or even your battle belt) with the double belt loops and your boots with the boot hook. So even when you kneel or duck, it all stays in the proper position.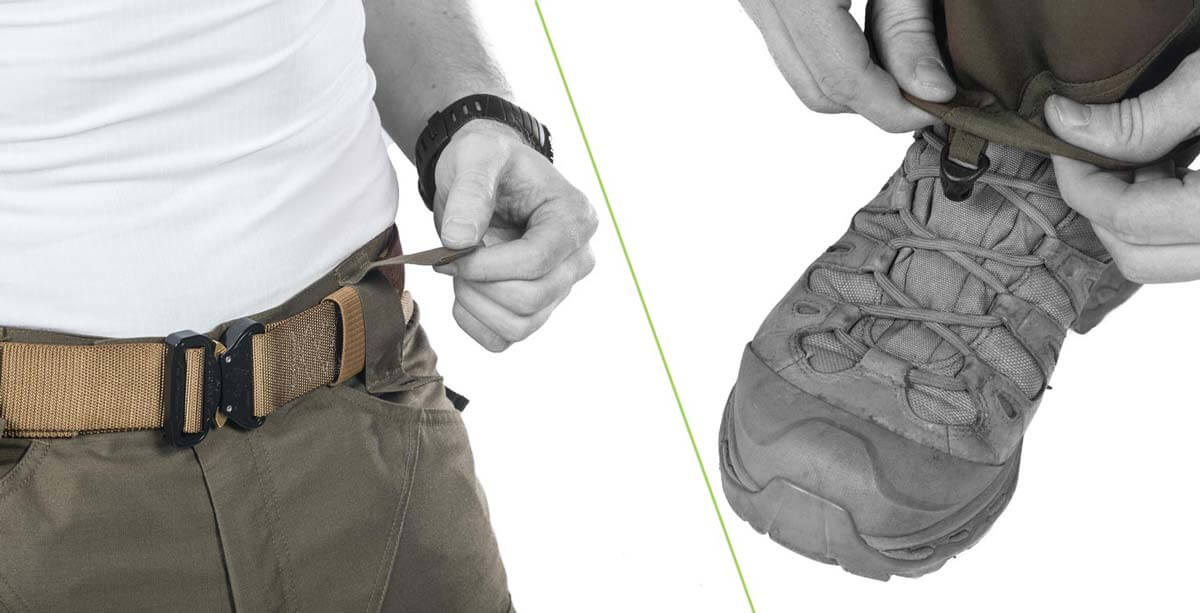 ALL-YEAR PANTS.
You can wear the Striker XT Combat Pants with knee pads during the whole year. When it's too hot, simply open the combat pants knee pad pockets and you'll feel the extra breeze in a second.
You can also wear them for deployments in sub-zero degrees. The inner zipper allows you to attach a WINDSTOPPER® lining* inside the pants, which gives you comfortable wind and thermal protection.
*The WINDSTOPPER® lining is not included and has to be purchased separately.
FEATURES
Pocket configuration:
2X Front pockets
2X Back pockets
2X Safety pockets
2X Multi-functional, two-way access side pocket with inner compartments
2X Attached gear pocket with a security strap
2X Mag / knife / marker pocket
2X Large lower leg pockets
Double belt loops
Stretch in the waistband
Ergonomic UF PRO® 3-layer knee protection system
Width-adjustable lower leg area with a vertical zipper and elastic cord at the leg ends
Double zipper pull fly
Inner zipper for detachable WINDSTOPPER® lining
CORDURA® reinforced instep
Boot hook
MATERIALS
Belt not included
Black:
67% Polyester, 33% Cotton Ripstop fabric
schoeller®-dynamic: 92% Polyamide 8% Elastane
100% CORDURA® fabric
WEIGHT
Goods made to order – custom-made apparel (non-refundable)